21st February 2023
By Peter Cockill, General Manager
I have worked at Ardoch for nearly 16 years, but the estate has been around more than a little longer than that!
It was in 1693 that William Buchanan acquired the beautiful plot with ownership being passed down through the Buchanan family over many years. The farmhouse at Ardoch dates from Victorian times with the upper floor being added on after a fire.
Mr and Mrs. Morgan acquired the estate in the late 1980s and by this time the farm was in a fairly grim state of repair but they saw its potential, primarily as a family home.  They added four bedrooms and a drawing room, they also created three cottages from what was once a grain store. The byre was used as a workshop and there was a double Dutch barn that faced one of the best views in Scotland - the coos definitely had the best view!
When the Morgans decided to sell and downsize in 2006, Ardoch caught the eye of newly retired Peter Armitage who was looking for a new pursuit.  In recognition of a happy life and a successful career, he wanted to give something back to society. He had in mind establishing an exclusive use corporate conference venue with a socially worthwhile purpose.  The project was due to be located in his birthplace, Yorkshire, until a Scottish friend asked him to travel north and inspect a property overlooking Loch Lomond.  Immediately upon arrival at Ardoch Peter knew this was the place he was looking for because the location is so inspirational.
His aim was to provide a high-quality venue and establish a set of compelling corporate social responsibility credentials that would appeal to public and private sector customers seeking more than just good value for money.  Ardoch was to operate with a profit motive but deploy financial surpluses as subsidies to charities working with children, rather than accumulate profits or distribute dividends.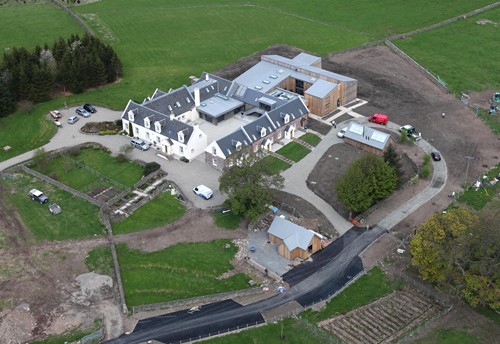 Architects Lorn MacNeil were hired to produce a state-of-the-art multipurpose facility for business and charity use and it is clear to see how they fused traditional and modern architecture.  This new building was designed to look like an agricultural structure when seen from the village but it is unashamedly contemporary when viewed from the front. The brief was to ensure as rooms as possible enjoyed breathtaking views and the architects certainly delivered!
The wall in the dining room is made of Corten steel, recalling the proud history of Scottish shipbuilding. The dry-stone walls have been brought inside but have been confined to gabion baskets. The photographic art at Ardoch was created by Peter's Swiss wife Christine and all the other art has been gifted over the years or is on loan from the couple including Jimmy who proudly sits overlooking the estate.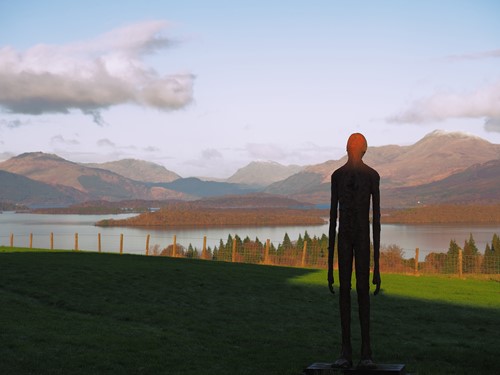 Landscaping has been kept to a minimum in order to preserve the natural contours of the ground and allow the building to sit unselfconsciously in its prime position overlooking the Loch. Dry stone walls have been repaired, the lochan was enlarged and restocked with brown trout, soil improvement has taken place throughout the estate and over 1000 trees were planted with another 1200 to be planted in March 2023.

We take our environmental responsibilities seriously here at Ardoch. The building is heated by a biomass boiler and log burners (often using wood harvested from our forests), hot water also comes from this boiler and solar panels. A rainwater harvesting system provides water for our bathroom and gardening needs.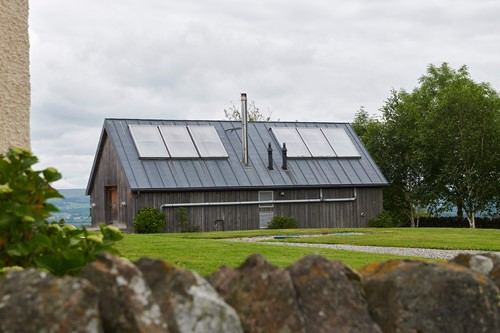 In 2007 and 2008 the main house, the farmhouse and the three cottages were all refurbished. Then the byre was converted. Finally, the new building was completed and in the summer of 2010, we opened for business. HRH The Princess Royal visited that year to formally open Columba 1400, a Scottish charity and social enterprise which helps develop young people's potential.
In the summer of 2013, Ardoch was named one of the most environmentally friendly organisations in the Government-backed Green Apple awards. Ardoch was commended for its commitment to sustainability and corporate social responsibility and the sensitive way in which it works with the local environment. This is something we are proud of and the core of how we continue to operate today.
Reflecting on the last 16 years, the Ardoch project has achieved its aims. We have welcomed numerous charitable organisations and gave hundreds of young people the experience of staying here and learning about themselves.  As the model began to prove itself, Peter put the Ardoch estate into a foundation and, during those 10 years of operations, the foundation was able to direct some £482,000 towards helping charities afford to come here.
In 2019, the foundation trustees decided to gift the estate plus a handsome cash sum to CHAS. Given that the objective was always to support children in Scotland, what better charity to receive this gift than Children's Hospices Across Scotland.
Today the spirit behind Peter's original vision holds true and our vision for Ardoch remains resolute.  We call it profit with purpose yet what that really means is that through using Ardoch as a venue for your next event, be it corporate, leisure, or a wedding, you will be supporting CHAS and making sure that no one should be left to face the death of their child alone by making a significant contribution to CHAS finances over the long term.