Our Past and Future
A LITTLE ABOUT HOW WE CAME TO BE...
Ardoch Estate has a special history. Ardoch was originally a privately owned farmhouse dwelling with separate cottages and an animal barn. Peter Armitage, a Yorkshire man and philanthropist, purchased Ardoch estate in 2006 and set about converting and expanding the original farmhouse property and surrounding land, with the intention to create an exclusive use event venue with a difference. Peter established The Ardoch Foundation, with the goal to operate Ardoch as a social enterprise for the benefit of children's charities, specifically to support young people who were struggling in some way in their lives, with the revenue proceeds from hosting meetings and events at Ardoch in turn enabling the Armitage family to provide charitable grants to a wide range of registered beneficiaries. Under the ownership of the Ardoch Foundation, the Ardoch Estate has continued to be a place of calm and inspiration for those who have visited over many years.
After years of running the estate with his family, Peter Armitage has now chosen to very generously gift Ardoch in entirety to Children's Hospices Across Scotland (CHAS), in the strong belief that the fundamental founding principles of CHAS have great synergy with Ardoch.
After a year of closure and lots of work behind the scenes, Ardoch has now re-opened in July 2021 and has a very exciting future ahead. The venue has been re-positioned as a fabulous exclusive use venue, offering a unique exclusive use venue within the Scottish hospitality industry, with all profits going to CHAS and as such, creating a new innovative and sustainable source of income for the future.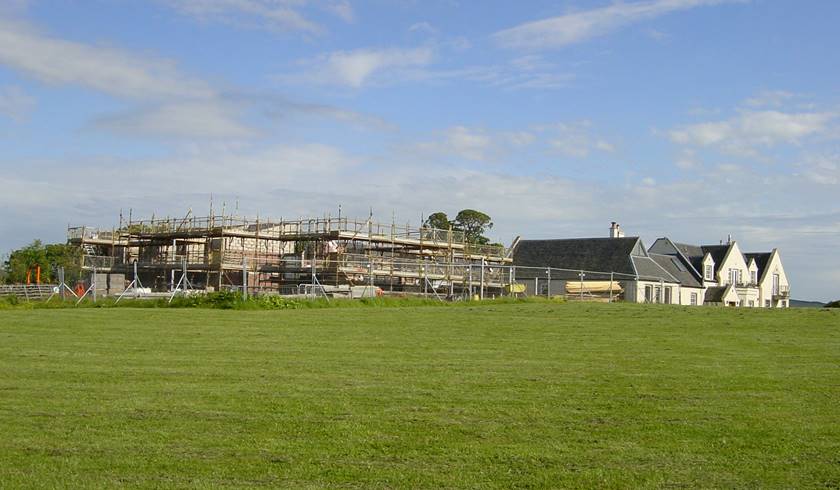 Ardoch starting to take shape during the extension stage..