The story of Ardoch Loch Lomond – How a charity can create a successful profit with purpose business model within the hospitality industry.
24th August 2023
Introducing an exclusive use experience with purpose: your invitation to make a difference.
Ardoch was generously gifted to the charity, Children's Hospices Across Scotland (CHAS) in 2020 and reopened following the pandemic in 2021, operating as an exclusive use hospitality venue. The venue has been established with a profit with purpose ethos.
Our approach in creating Ardoch Loch Lomond has been unique and innovative, merging social impact with sustainable revenue generation.
Ardoch Loch Lomond's vision aims to:
generate profits that can be directly used to enable CHAS to provide unwavering care to dying children and their families at every step of the way through the hardest of journeys
provide a high-quality, exclusive experience for its guests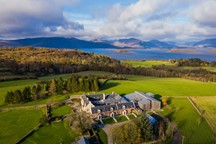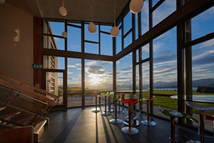 What is Ardoch? A Venue with a Vision
Guests can hire Ardoch Loch Lomond exclusively for their own gatherings, whatever the occasion (corporate or leisure), and you will have the whole venue on a completely private basis just for you and your guests including; 18 bedrooms plus 133 acres of rolling countryside. Surrounded by expansive skylines, soaring mountains and breath-taking views over one of Scotland's most iconic Lochs, our dramatic setting draws people in.
Here, we work with each guest and help you shape Ardoch into a space that's just for you and your guests. This is where, in a few moments of inspiration, our Barn becomes a place of celebration, the woodland becomes an open-air dining room or art studio; the lawn transformed into a vibrant team-building area or tranquil yoga space, and our gardens an impromptu meeting room, alive with flowers and 'Big' ideas.
This is where space, inspiration and service, all come naturally.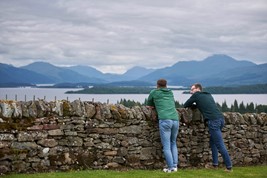 Here's a little more about our business model:
Revenue Generation
The Ardoch model brings a new dimension to the way CHAS raises funds, helping to diversify income by generating revenue through customers having their events at Ardoch. The profit generated from the venue's operations goes directly to CHAS and provides a sustainable source of funding.
Beyond the enjoyment of hosting a wider variety of successful events and special occasions at Ardoch, lies a profound commitment: to transform profits into purpose. Our profit with purpose model goes beyond convention, channelling the revenue generated from your visit directly into making sure that no one should have to face the death of their child alone in Scotland.
Exclusive Atmosphere
Our exclusive use venue is more than just a destination – it's a destination with heart. Ardoch offers the double benefits of exclusivity and the complete privacy which comes with hiring an entire estate, plus it offers an exclusive service experience to our customers, somewhere quite different from the usual venue hire options.
Be a Catalyst for Change
From thought-provoking events to immersive workshops, our venue sparks conversations and connections that transcend the ordinary. It's not just an event – it's a moment of impact that lingers long after you've left and we hope inspires you to return.
We hope this provides an interesting background to Ardoch Loch Lomond's journey to becoming a successful profit with purpose venue.
To find out more, or to book an appointment to visit Ardoch to discuss any upcoming events, please get in touch with us at info@ardochlochlomond.com.