01st February 2022
By Iain McAndrew
Set on the banks of Loch Lomond within its own 133 acre grounds, Ardoch was gifted to CHAS in 2020; just as we were all plunged into a pandemic. The shared vision behind the gifting of Ardoch has always been to see it operate profitably generating an income able to support the mission of CHAS; thus continuing the philanthropic spirit that has shaped Ardoch over the last 14 years.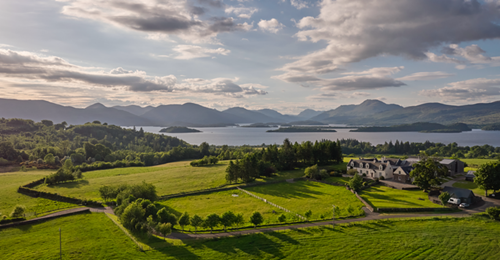 Business plans have been developed, due diligence carried out, budgets and targets (with KPI's of course) established, resources aligned and a pandemic navigated. In short, all the things you'd expect to have in place. One of the core elements underpinning our business strategy is what we marketers would call "the brand". It's that intangible summation of an organisations personality that aspires to have your customer feel that you have delivered on what your snazzy website, imagery and well-crafted copy promised.
Ardoch already had a strong brand which absolutely ticked the boxes for its existing clients. And perhaps therein lies our challenge, as arguably Ardoch as a venue, is one of Scotland's best kept secrets. Our aspiration therefore is a simple one; namely to share Ardoch with a much wider and diverse range of clients whilst not losing the very essence of what makes it so special.
We were joined on this journey by marketing agency Eighty Days and consultant Rosemary Spenke from Heritage Hospitality Consulting; both bringing complimentary experience in the marketing of exclusive use venues. Having the right support in place was essential in enabling us to fully develop this new revenue stream for the benefit reach and support more children across Scotland. The venue itself will also directly support that ambition most recently acting as the backdrop to our live-streamed virtual Remembrance Day for families who have lost a child.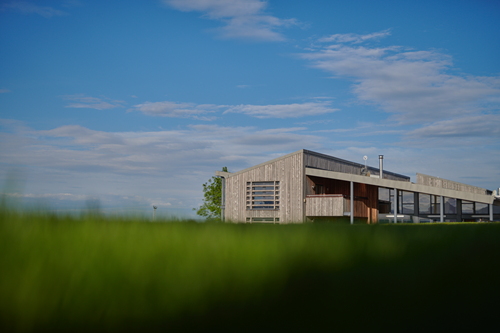 Branding can often be a divisive topic. Some simply don't ever see the need for it and others the conversation quickly narrows to "we need a rebrand" which often ends up in the comment that "we need a new logo" and with that, magically a wand is waved and that will fix everything! And very rarely it does! I always try to take the use of the words "brand" or "rebrand" out of the language on any marketing project; preferring to focus on defining what is the core mission or purpose of any organisation, teasing out its personality and unique features that already attract either support (as in the case of CHAS) or customers (in the case of Ardoch) and amplifying those through story-telling. Get that first bit right and the rest follows. In my view this gets you to the very essence of what makes an organisation tick; its unique character that, vitally, needs to be authentic and come through in everything the organisation says and does if the "brand" is to meet expectations.
In short, you can't be what you are not and the Ardoch "brand" needed to be true to the experience that customers will receive to be truly authentic in a way that will inspire them to return time and time again. Although, now in CHAS ownership, I was always clear Ardoch needed its own "brand" distinct from CHAS. It was important that we acknowledged from the outset that Ardoch had to be chosen by clients on its own merits and exceed the expectations of a discerning clientele. Yet, we needed to convey the synergy between both organisations and, that in using Ardoch, clients are supporting such an amazing cause.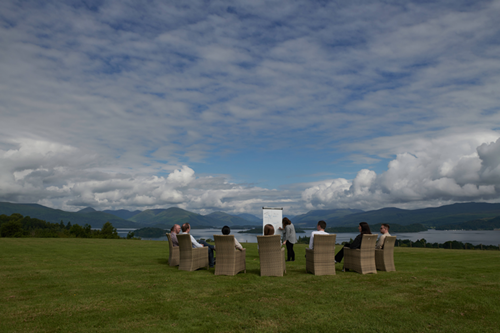 So for me this was only ever about capturing the unique "something" that already makes Ardoch the venue it is and the very one we want more people to experience. I've had the privilege to visit on numerous occasions as CHAS prepared to take on the estate and I am always struck by the way the place makes you feel. As you arrive, the tranquillity is the first thing that makes an immediate impression. Next is the surroundings and yes, there is that view looking down over Loch Lomond. (A little lost on me given I'm blind!) Yet, I've only ever heard the view described as spectacular, stunning, amazing, or breathtakingly gorgeous. The buildings themselves are a blend of the traditional and modern that sit so comfortably in their natural surroundings. This is one of Ardoch's incredible attributes - the sense of wide-open flexible space and the connection to nature and the environment outside. Most importantly, Peter the General Manager, and the team are warm, welcoming and natural, immediately putting you at ease.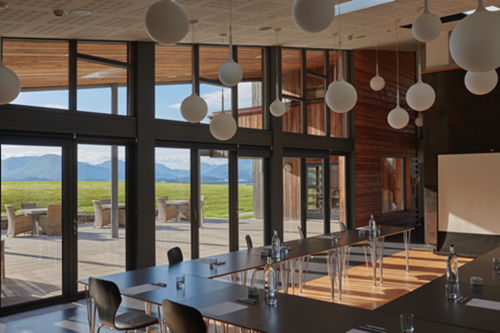 I've experienced all these things each and every time I've visited. It is what existing clients said of Ardoch, as did others from CHAS involved in this project. The team from 80 Days requested they spent 24 hours using Ardoch as clients - testing our facilities and service to see what and who Ardoch really was. So when this project kicked off they quickly reached a simple conclusion – take what you've just experienced and tell that story to a wider audience. And, as anyone will tell you, simple isn't ever easy.  It's often said people might forget what you've said, even what you did, yet but they will never ever forget how you've made them feel.
I think we've achieved something that enables us to express what Ardoch has to offer. You can discover all this for yourself on our website (www.ardochlochlomond.com) and better still, if you are planning an event, make an inquiry and chat to Peter and Linsey on how Ardoch can help you create a memorable and impactful event; whatever that might be.